Click image to view Gallery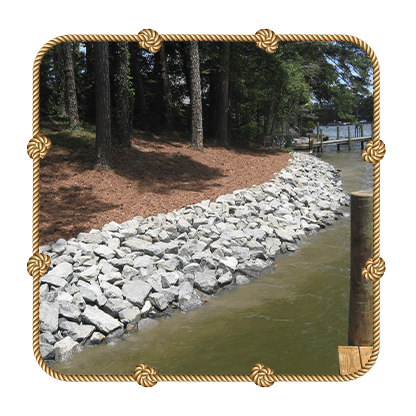 The shorelines we build are beautiful, and we work hard to keep them that way. Inlet Marine offers complete shoreline restoration services to restore eroded shorelines while protecting them from potential erosion.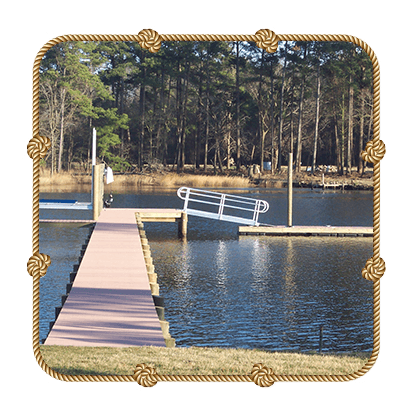 Improve the quality of your waterfront property with a custom-built floating dock from Inlet Marine. It provides a great substitute for a standing dock. Floating docks, which are loosely anchored to poles and, therefore float on water, and are beautiful and long-lasting additions to your property. 
Permits
We work with several local engineers to put together drawings and obtain permits for what the client wants from the Virginia Marine Resource Commission, the Army Corp of Engineers, and wetlands in all cities. Because the permit process for building piers to boat lifts can be time-consuming and confusing, Inlet Marine provides permit processing as a convenient service for all our customers. 
Building Marine Structures Including Piers and Rip Rap
Inlet Marine in Hampton Roads, Virginia, builds piers and floating docks, as well as whatever you need. From decks to benches , we construct marine structures that are built to last. We also provide repairs and maintenance to make sure our products last through the seasons.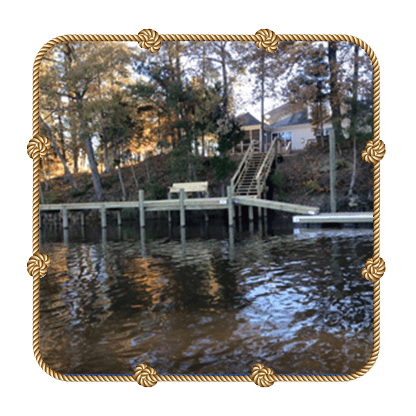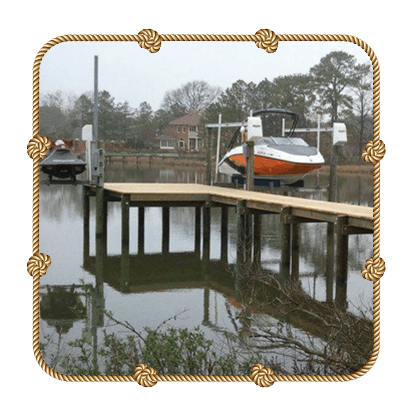 Repairing & Maintaining Boat Lifts and Other Marine Structures
Inlet Marine in Hampton Roads, Virginia, maintains and repairs boat lifts that often go neglected. We also perform deck repair,  and work on shoreline restoration. Learn more about what we can construct and build for you.
Boat Lifts & Maintenance
Our boat lift maintenance includes:
• Grease Gears Fittings, Sheaves, Shafts, & Drives
• Inspect Belts & Pulleys & Tighten If Needed
• Check Bunk & Guide Bracket Spacings for Boat
• Tighten All Nuts On the Cradle Brackets, Check Mounting & Drive Bolts, Tighten If Necessary
• Check That Cradle Is Level
• Be Sure Cable Is Tight In The Cable Beckets & Clamps, Inspect All Cable Tie-Offs for Damaged Or Grayed Stands
• Check All Electrical Connections & Boxes, Test Remote, and GFI If Needed
• Center the Weight Of the Boat Onto the Lift, Mark the Position Of the Boat With The "Line Up the Guide Post Here" Stickers
Pier & Deck Repair & Restoration
Humidity, harsh weather, and the passing of years take a toll on waterfront fixtures. Inlet Marine makes your piers and decks last longer while looking as good as new.